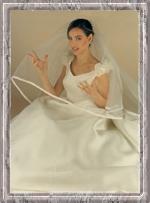 WEDDING GOWNS FOR YOUR WEDDING IN ITALY - Our dress shop rents and sells Italian wedding dresses which can be custom made on request and are made from the finest Italian silk and lace. Contact us and we will respond with all the details for your Italian Wedding Dress! A
Wedding in Italy
is a memorable and unique experience. The most important thing to decide first is your wedding gown than you will choose the location and set a date for your unforgettable ceremony and reception. Italy is a fantastic place where find your hand made wedding gown. You can choose among several beautiful areas and we are sure that any one of them will impress you: from the wonderful Renaissance city of Florence and the Tuscany area, to the historical Rome and the romantic Venice or the sparkling Amalfi Coast... Our dress shop is in Florence: a
Wedding in Florence
is an unforgettable and unique experience and you'll have plenty of things to do and visit! If you love art you can enjoy a walking sightseeing tour and discover some of the beautiful masterpieces that Florence boasts. You can walk around this unique city and try some of its typical dishes and have a tasty glass of wine. Or you can simply do an excursion to one of the most suggestive areas of Tuscany, known all over the world for its wine and its countryside of unequalled beauty, that alternates woods with vines and olives trees, where Romanesque Churches, farmhouses, Villas and Castles of rare beauty are be found. A
Wedding in Tuscany
is a breathtaking experience: you can marry in an intimate church or a charming villa. You can your reception party in the courtyard of a ancient romantic castle in the heart of Tuscany. A destination wedding can simplify, enrich big day.
CNN Travel: weddings in Italy
article explains this modern trend.